Johnny Jones, III, MD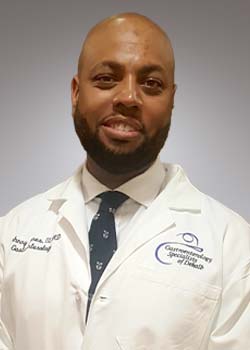 Johnny Jones, III, MD, graduated from Xavier University of Louisiana in 2004, cum laude. While enrolled there, he was a member of various pre-medical societies, including Alpha Epsilon Delta and Beta Beta Beta honors societies. Dr. Jones completed his medical school training at the University of Arkansas for Medical Sciences in 2008, where he also completed his post graduate training in internal medicine and gastroenterology. He is board certified in internal medicine and gastroenterology. Subsequently, Dr. Jones has worked in various capacities, including as a staff gastroenterologist within the Veterans Affairs Healthcare System.
Dr. Jones seeks to provide outstanding medical care to his patients as it pertains to diseases of the digestive tract, biliary system, and liver. Dr. Jones is married and enjoys spending time with his lovely wife, Erica, and beautiful daughter, Olivia. His hobbies include jogging and reading.