Shirley A. Harris, MD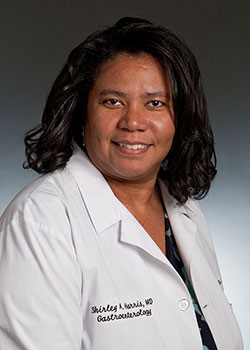 Dr. Shirley A. Harris graduated from Case Western University in 1987 with an M.D. degree. In 1994 she earned her Fellowship in Gastroenterology from MetroHealth Medical Center in Cleveland Ohio. She has practiced in the Atlanta area since 1996 and is affiliated with the Dekalb Medical hospital system. Dr. Harris is board certified in gastroenterology and is a highly skilled endoscopist proficient in all endoscopic procedure including ERCP (Endoscopic Retrograde Cholangiopancreatography). In 2005 she founded Gastroenterology Specialists of Dekalb.
Dr. Harris lives in nearby Avondale Estates with her family. She loves to travel, enjoys cooking and gardening and is also an avid sports fan.